Maggie (Lovely Oblivion #4)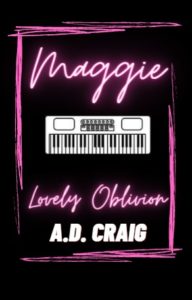 Maggie and Wylder aren't looking for love.
When the two become friends, they know a touring rockstar and a tattoo artist don't belong together. They fight their attraction and remain friends. However, when Wylder needs a date to accompany him to a relative's wedding, Maggie steps in as as Wylder's fake girlfriend to help her friend. The struggle to fight their feelings becomes real.
Will their pasts get in the way of turning this fake relationship into a reality or do Wylder and Maggie have a chance?
_
Careful: Rockstar content ahead! This novella contains explicit sex, profanity, adult situations, and violence.
Reviews:
⭐⭐⭐⭐⭐ "An engaging, well-written tale with themes of love, kindness and the hard-knock decisions that come with 'happily-ever-after.'" – Amazon Review
⭐⭐⭐⭐ "Making it work this time is going to take some tough decisions. I enjoyed their story and thought it was well written." – Amazon Review
⭐⭐⭐⭐ "loved it !!! love this series !!! love Maggie and Wylder… this is their story… a fast paced drama…" – Goodreads Review