Polly (Lovely Oblivion #3)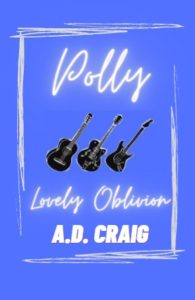 Two famous rockstars, two separate rock tours, two different lives. Polly and Flynn have been friends for years, but their lifestyles keep them apart. An awards show at an opportune time finally brings them together. Their feelings morph from friendship to more.
Can their love overcome the distance and time apart?
_
Careful: Rockstar content ahead! This book contains explicit sex, profanity, adult situations, and violence.
Reviews:
⭐⭐⭐⭐⭐ "I really liked that the relationship between Flynn and Polly is built on a foundation of friendship. And that, for the most part, they communicate well with one another." – Amazon Review
⭐⭐⭐⭐⭐ "Great story. I really loved this one. The characters are well written and they hated when this story ended." -Good Reads Review
⭐⭐⭐⭐⭐ "A sweet and lovely friends to lovers romance. Flynn and Polly were very engaging characters in this entertaining read filled with emotion, drama and steam. I really love the Lovely Oblivion series." – Good Reads Review