Bex (Lovely Oblivion #2)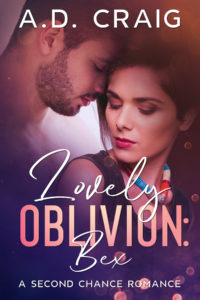 Bex tried to move on, but her thoughts never strayed far from Aiden.
As teens, Aiden broke Bex's heart to protect her from a secret. A life changing, devastating secret. In the ten years since, Aiden's secret grew worse.
Bex went to college, became a famous rockstar, and dated other people — but her thoughts always returned to Aiden.
What happens when they meet again for their ten year high school reunion? Will secrets keep them apart?
Will their love rise above the challenges ahead?
_
Careful: Rockstar content ahead! This book contains explicit sex, profanity, adult situations, and violence.
Reviews:
⭐⭐⭐⭐⭐ "Bex is the lead singer of Lovely Oblivion, Aiden is her high school love and at a high school reunion they get the opportunity to have a second chance at happiness. I love Bex, she's one feisty babe. Aiden is a sweetie with a secret. I also love that we get to catch up with Jade from book one as well. This is a great continuation (although can be read as a stand-alone). I will be waiting to read the next book in this series." – Amazon Review
⭐⭐⭐⭐⭐ "I don't want to give anything away so do yourself a favor and one click this book. I love how the band is all women and all they want to do is rock out doing what they love and enjoy their lives." – Amazon Review
⭐⭐⭐⭐⭐ "A fabulous book that was tear-jerking, sweet and funny. Bex and Aiden were so beautiful together with wonderful chemistry." – Amazon UK Review